FTFY: Newton Square Pizza
Last week I resolved to change up my weekly FTFY project a little by spending 24 hours on a project instead of 28 hours over a week. Today is my first sprint and I'll be live blogging my progress from this post for the next 24 hours.
For my first FTFY sprint I'm doing Newton Square Pizza, which is my favorite pizza place in Worcester. They're also where I got my pizza for the parody commercial my friends and I shot a few years ago that inspired FTFY in the first place.
About the project
I have a budget of $50 and 24 hours to get them a completely new website and branding identity. I'm going to focus on online ordering, logo, package design, printed menus, window signage, photos, and work shirts. I may have to settle for a little stock photography to save some time, but I'm going to do my damnedest to get this done right.
The current state
Newton Square Pizza, or Newton for short, has a basic front page website and online ordering powered by FoodTec Solutions. I'm not a fan of FoodTec at all because despite being around for over a decade they've done little if anything to improve their product for restaurant owners. The prices they charge, in my opinion, are basically highway robbery. Also – isn't Tech short enough? Did we really need to lose the 'h' at the end?
There is only one photo of pizza on the site and I'm not entirely sure it's of the pizza served at Newton. I want to change that because they make gorgeous pizza that's perfectly melted and cooked and I'm literally drooling just thinking about it. They use Boar's Head deli products, my favorite deli brand, for all of their sandwiches. So there's gotta be a better way to show off what they have on offer over there.
Here are some screenshots of their current site:
Order of operations
First thing I'm going to work on is the logo. Then I'll get a new online ordering system demo set up for them that will knock the socks off their current system. From there, I will probably order a pizza, sandwich, and salad and bring my camera to the store to pick it up. I'll get photos there and then some better photos when I get back here.
From there, I'll populate the online menu and get all of the collateral designed. I'll bring everything with me down to their store tomorrow when they're not too busy to see if they like it and want to use it.
So… here I go!
2:22am Update
The branding update
Newton is a great place. I've never had an unfriendly encounter whether I've picked up or ordered delivery. Some pizza places you have to dab a little bit of snake oil and grease off the cheese but not here – they're just genuinely friendly and good at making great food.
The interior is a cheerful yellow with splashes of red and a very open kitchen environment. I'm as happy eating in-store as I am heading back home to binge on pizza and Netflix. The menu is full of unpretentious food and they're always consistent in their presentation and quality. Everything they make has a homemade feel to it while delivering maximum flavor and aesthetic.
I wanted to create a brand that complemented the existing color scheme and mirrored the quality of their service and food. Something that was – just like them – somehow old school and modern, bold and unpretentious.
The logo
I kept the square and the sort of tilting action going on in their outdoor signage. I chose a font that I felt hit all of the notes I was imagining: bold, genuine, tasteful, and a little bit nostalgic.
5:44am Update
Getting the website refreshed
With a new logo, color scheme, and a fresh set of ideas for how the site should come together visually I've set to work building the website. I'm focusing on building the online ordering system first since it is the most time consuming compared to anything else. Then I'll work on the rest of the site's crucial parts: deals page, terms / privacy, and marketing.
The new online ordering system
I'm using a relatively new system that focuses on the user experience and the impact UX has on conversions. You can probably already feel a discernible difference in how much you want pizza by comparing the two online ordering systems.
That's not to say that there are no UX quirks in the new system that drive me a little crazy. It's tough to do toppings on half the pizza, you can't easily specify Xtra or XXtra, and I had to create separate products for the same cheese pizza.
This is because there were no conditional pricing options in the service yet. There's also no way for me to include photos of options or change some key styling issues. These are key features of a pizza place's online ordering system.
But like I mentioned above, this is a new service and for being new it's already packing a huge punch. The photos will totally compensate for UX / UI changes by driving conversion behavior.
8:13 Update
I want to hack this menu to pieces
It's not out of laziness. Large menus just present too many options to users. It gets overwhelming. I also want to know which of these speciality pizzas actually get ordered and how often.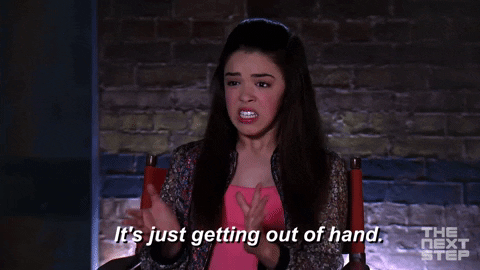 Brief side story. I worked in a pizza shop in high school. I remember taking orders and wondering why we even carried some of the specialty pizzas that we did because no one ever ordered them. I guess my boss felt the same way because eventually this one pizza was taken off the menu.
Two days later some elderly customer called up to order one. Hadn't ordered in 3 years but out of the blue was somehow like, "I need this very specific pizza combination." Not only had the pizza been nixed, but one of the toppings had been too.
We were in the same plaza as a supermarket so my boss walked over and bought the missing ingredient and we made the specialty pizza for the customer. But we also let the customer know that this was the last time they could order it. Guy had a great sense of humor about it and said, "This may be the last time I order anything. I'm pretty old." (Moments like these are things I miss about working in food service.)
Figuring this menu thing out
Anyway… There's a reason 2, 3, and 5 topping pizza deals do better than an infinite supply of specialty pizzas. It limits choices to what a customer can handle and doesn't penalize customers who want an odd combination of toppings. People happy when they think they're getting the same deal as everyone else for ordering toppings in bulk.
So I kind of want to offer menu engineering advice to Newton and shed some of the excess options from their menu. I hope they have good reports. I really want to analyze their order data for trends and helpful insights.
In the meantime, I've split their 24 specialty pizzas into two groups: classic specialties and Newton favorites. Because you can't really put humdrum buffalo chicken pizza in the same category as Newton's own Crab Rangoon pizza (which is soooo good, by the way).
I have no idea what I'm gonna do about their 30 different sandwiches though. Can't there be a build your own deli sandwich where you just pick a meat, a cheese, a few condiments, and your veggie toppings the same way you'd build a pizza?
10:36am Update
Wrapping up the menu
So I'm wrapping up the menu creation, and once that's finished I'll get the rest of the website set up and create some deals. I ran into a bit of a pickle though.
I've been using a handful of stock photos to visually convey my photography goals. I was planning on getting a pizza and a sandwich to work with to show off my own photography skills. But upon assessing my equipment in the new apartment I realize my lighting stuff is still in storage in New Hampshire.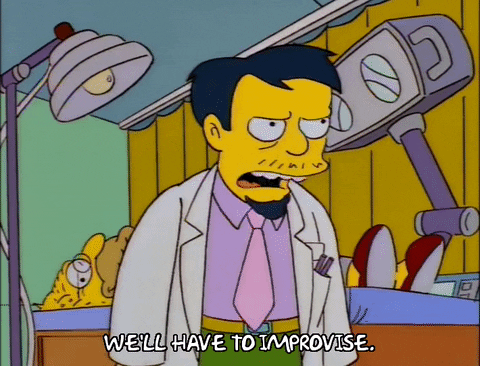 Change of plans
Sigh.
So what I think I may do is use said pizza and some cash from my budget to bribe a friend into finishing up this menu entry stuff and work on a video for Newton instead. I can use stock placeholders until I get my equipment to do a proper photo and video shoot.
It's even possible I could still get that done late tonight. For now though, I'm gonna take a little cat nap before texting someone for help and ordering a pizza for lunch.
4:01pm Update
Starting up the website
Online ordering is set up and now I'm moving onto the website design. I'm using Divi as a framework again with some custom layouts for easy editing.
I'm not exactly sure what to do about web fonts, though. I got the logo typography figured out and I'm using Montserrat in the online ordering system – but for number headings it's a little lack luster. Since I'll be putting up deals I want it to look good and match the look and feel I'm working on.
Maybe Maven Pro in an extra bold would work for pricing would work though. Ah, I'll just get into it.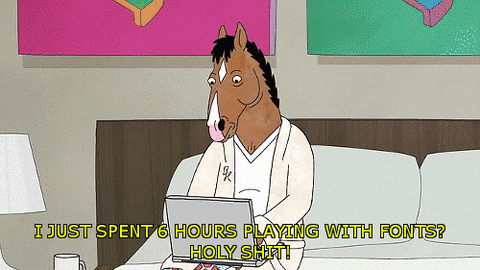 I should probably just pick something and run with it or else I'll be stuck in typography land for way too long.
7:37pm Update
Finishing up the website
I've got everything done, I just need to make some style changes to the menu. It's coming out really good.
CTAs
The primary CTA is "Order now!" and the secondary CTAs are "View more deals", "Sign up", and "Subscribe".
Normally I'd never use red for a CTA because users generally associate red with danger and "rethink this decision". However, red can be really effective as a CTA color when used on a food-related site because they're primed for hunger. Color is so crazy.
Speaking of color
I used a little bit of that signature yellow from the store interior and kept the menus dark just like the menus in the store. That will create a consistent experience from order to pickup.
Color consistency makes people want to come back and spend more because they know what they're going to get without having to resolve any visual conflicts. That's why chains are so successful and getting people in the door no matter how many times they face a boycott. At the end of the day, most of us just want something familiar and comfortable.
Anyway, here are some screenshots of how things are shaping up:
Next up
I'm not sure I'm going to have time to do that video tonight. Mr. Tickles (my usual 27″ iMac with 8GB RAM that I use for development) just can't handle processing things quickly enough. If I had Colonel Panic (my other 27″ iMac that has 64GB of RAM but has intermittent kernel panic issues) I might be able to do it.
So what I'm going to focus on next is all the branding collateral. I've already got a pizza box mockup but I want to do other containers, some shirts, wrap, menus, business cards, and door hangers.
These are all much more feasible in the next few hours. But maybe I'll make a special trip up to NH this weekend to get Colonel Panic so that I can do a video for Newton too.
Oh yeah – here's the pizza box mockup: