FTFY Update: Some Last Minute Juggling
Screenshot: Hot Fuzz - The Living Statue / Crusty Jugglers
This past week I haven't posted much even though I've been working really hard. WARL has turned into a bigger project than I anticipated so I wanted to figure out how to juggle that while still getting out one project per week, running my blog, looking for work, solving kata, and working on MetaEgo.
So, tl;dr: This week has been a little crazy.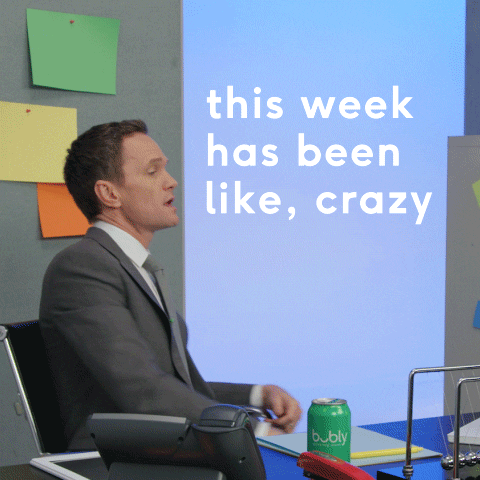 GIF: Neil Patrick Harris – Giphy
As a result of the craziness and the need to juggle some things around, I've decided to get back to the roots of FTFY to figure out my path forward. I want to take as long as it takes to complete each project while still pushing myself to get more done in smaller stretches of time without sacrificing quality.
FTFY Origins
So, there's actually this funny backstory to FTFY. I'm a huge fan of Reddit. I have been for years. And a couple years ago I saw this complaining post from someone in business school about an assignment their professor had issued.
They felt the assignment – basically spending a week branding a fake business – was way too hard and beyond any human's ability. The assignment wasn't for them to personally brand the business but to find a way to brand it using the resources available to them. They could hire talent or get help from other students and even collaborate to get it done.
It got to me. I'm already not a huge fan of people complaining about the work their professors give them. People who can't see value in the experience they're getting from an assignment, no matter how tedious it may seem, frustrate me to no end.
And no, the irony of complaining about people complaining is not lost on me.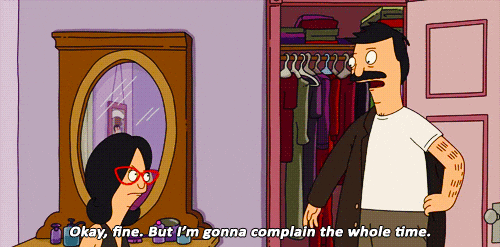 GIF: Bob's Burgers – Via Giphy
But this person's complaining really annoyed me for a few reasons. If you're an aspiring MBA and going to school to become an entrepreneur or project manager – you need to get skilled at getting ideas up and running FAST. That means rolling up your sleeves and doing it yourself when you must until you can refine later.
It also means seeing potential and opportunity in every relationship and contact that you have. Being successful means finding the potential for success in others and nurturing it – not degrading the work that needs to be done just because it's not something you're good at.
Without the ability to see opportunity in the challenges ahead of you how are you supposed to motivate anyone to believe in your ideas, least of all motivate yourself?
The Assignment
The assignment this business student had was to spend a week branding a new business of their choice. Students were required to produce the following:
A professional-looking logo
A trifold brochure
A website
A 60 second commercial
My Challenge
I told this person that I would complete the assignment within 24 hours with a $50 budget. I in classes myself at the time so I upped the ante a bit: I'd also submit my work for grading in my own course and share the feedback I received from my professor.
How I completed the challenge in 24 hours
I conceptualized a fake business called Professional Graphic Design Firm that offered the exact services that this person was tasked to create: logos, business cards, brochures, websites, and commercials shot in HD.
Then I used $20 to buy a super-pack of stock assets from Envato and $15 to get a BOGO deal from a pizza place. I asked my husband and sent out a Facebook post asking friends if they could shoot a last-minute commercial with me in exchange for pizza and beer. I was upfront about this being purely to shame a stranger on the internet for being lazy. I got four volunteers.
The Logo
I combined a few royalty-free graphics and a free font from FontSquirrel to create the logo. Four connected puzzle pieces and a lightbulb comprised the icon mark.
The Business Cards and Brochure
Again using templates from the Envato pack I'd purchased, I created a business card design and trifold brochure. I had $15 left in my budget of which I spent $9 doing a short run of business cards and double-sided color A5 prints.
The Website
I rapidly deployed a Joomla site (which was my assignment, actually) with a template from Envato that matched the other assets I'd used. Then I dumped in content from the brochure for copy. I added a few extra generic stock photos.
The Commercial
My friends arrived to shoot the commercial. We ate some pizza and had a couple of drinks while we worked out a simple script. At some point we passed the point of productive creativity and entered a realm of absurd parody.
So the commercial we created ended up being unusable from a professional standpoint but it was fun to make and hilarious to watch. If you have friends who are fans of Dan Harmon, you get what your pizza and beer pay for.
I ended up doing a basic text-based commercial using an After Effects template from Envato. I still used the same voiceover that my husband recorded, edited a little, to keep some of the humor in tact.
Challenge Completed
I finished the challenge with 3 and a half hours to spare and came in $5 under budget. I also had a blast with my friends while completing my own assignment.
This is the thing that I'm talking about when it comes to seeing the opportunity in challenges. It's never glamorous to do hard work in a short period of time. But there's always something of value to be gained from a challenge.
That's why challenges aren't just for the ambitious or irrationally industrious. They're also for people who want to have fun and do something just because they can or just to make something easier for someone else.
That's the core of entrepreneurial spirit: the desire to help and make things better. And you don't make things better by complaining.
Unless you're complaining productively about someone else complaining like I did I guess? I don't know. I'm just saying, my complaining led to action so maybe it's not just complaining and it's more like weird vindictive initiative to be helpful but kind of sarcastically. Although I didn't help anyone? No, I helped my friends have fun.
I'll admit that it's not a perfect lesson.
The Grade
My professor thought it was hilarious that I'd used my assignment as an opportunity to shame an internet stranger. She was also impressed that I'd completed the assignment and more in just a day when we'd been given two weeks. And I did it all alongside my full time job without interfering with my work.
FTFY's Future
I'm proud of the way I challenged myself, but I was kind of a jerk about it back then. I feel bad for shaming someone for complaining. It still drives me crazy when people complain about challenges, but people need to be able to vent about their work. It's not my place to make them feel bad about feeling overwhelmed.
I'm proud of the work that I did when I challenged myself, but not so proud that I can't recognize that I was not the best human being in my motives and followthrough. There were far more constructive ways I could have handled myself and I wish I'd treated this stranger with more empathy. If I had, I might have been able to increase their capacity to complete their assignment instead of being a jerk to them.
I don't want to be a jerk about FTFY now. I genuinely want to help people while challenging myself to do the best work I can for people and businesses I love. And I want to teach other budding creatives and entrepreneurs how to do take on these challenges as well.
So I've decided to change the challenge a little bit. Each week I'll pick a day and spend 24 hours rebranding a business. I'll do it the same way I did my original challenge by setting a $50 budget and limiting my access to resources to friends. I'll limit these projects to companies and personal brands that operate for profit. I won't charge for these sites but I will accept tips.
In addition to one FTFY a week, I'll pick one nonprofit project per month to work on. This month is WARL. Next month will be ComfortCases. I'll offer these projects to the nonprofit completely free of charge.
And in all of my blog posts I'll share all of my processes and strategies so that others can use or improve on my system for themselves.